Social organizations have felicitated Mr. Vasant Dinkar Mestry by various awards for the contributions to improvise the educational values for the vision and mission he carries for betterment of society.
SIT nominated for Getenergy Award 2012, London among Top 5 Institutes all over the world in Oil and Gas Sector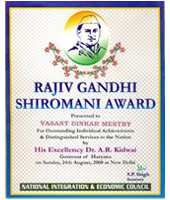 Received for year 2008 for Prestigious "Rajiv Gandhi Shiromani Award" from Rajiv Gandhi Foundation for "Outstanding Individual Achievements and Distinguished services to the nation" and awarded by Dr. A. R. Kidwai Governor of Haryana
Received "Life Time Award for excellent contribution in education" from Indian Economic Development & Research Association – IEDRA and awarded by Shri Murali Manohar Joshi former Union Minister.
"International Gold Star Millennium Award" in the year 2008 by Citizen Integration Peace society for "Excellence in promoting global integration and economic development" and Awarded by Shri Bhagwant S. Bishnoi Deputy Chief of Mission – Indian Embassy (Thailand).
Received "Shiksha Bharti Puraskar" in the year 2010 by All India Achievers Foundation, New Delhi on occasion of "National Economic development & social responsibility" for Outstanding contributions
"National Achievement Award for Education" in the year 2008 by World Economic Progress Society New Delhi on Occasion of national seminar on "National Economic Growth & World Peace"